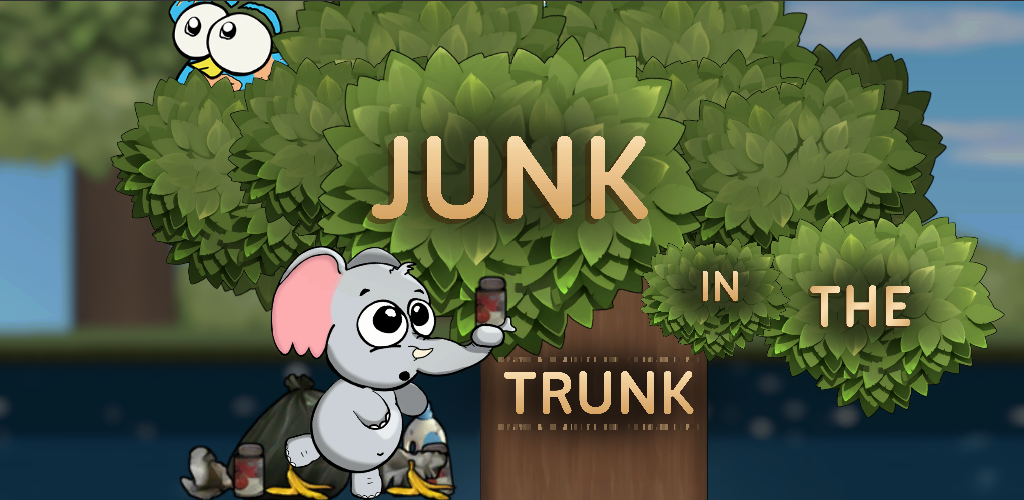 Junk in the Trunk
---Quick Start Controls---
The game was originally made for android, so use your mouse (click and drag) to swipe up, down, left, right, and click to do different things!

--------------------------------------------------------------------------------------------------
Thanks for checking out my game! Ivory the Elephant thanks you! This is a project I put together over the course of about 9 months. I have a lot more content to release including many more levels, combat mechanics, new enemies, obstacles, environments etc... but wanted to release this version of the game to get a sense of player feedback first. I humbly await your thoughts and feedback!

If you would rather grab the build from Google Play which provides access to achievements and leaderboards, feel free to do that too! (It is free, link at the bottom of this page)

-- BASICS + GAMEPLAY --
Junk in the Trunk is an auto-runner with an emphasis on platforming and combat timing to clean up and restore balance to area as quickly as possible!
Reach the end of each level as fast as you can while picking up junk, secret collectables, and avoiding obstacles + litterbug enemies to maximize your Karma points!
- Smash energy trapping orbs with your trusty stick!
- Jump over pits and obstacles
- Avoid or bonk litterbugs who hoard energy and produce litter. Chain combos and finishing moves for maximum speed and Karma points!
- Slide to boost your speed and reach tight spots. Be careful, this will leave you vulnerable!
- Find the two secret items in each level
- Master each level to earn a 3 star rating
-- CONTROLS --
(Note that these are also explained in game)
- Swipe up: Jump (while grounded), Uppercut attack (when enemy is near)
- Swipe Down: Slide (while grounded), ground pound (while in air), downward slam attack (in air, while enemy nearby)
- Swipe Forward: Special move, speed boost (when weapon is powered up)
- Swipe Backwards: Temporarily slow down (while grounded)
- Tap / repeated taps: Attack combos, air attacks (when Ivory gets the stick weapon)
-- STORY --
You play as Ivory the Elephant to clean up her environment and restore natural balance to the world!
Ivory has always spent her time doing good for the world around her. Having grown up in nature, she cherishes it and does her best to pick up any junk and release energy which has been trapped, obstructed from flowing naturally.
Our story begins with Ivory setting out on a routine round of cleanup in her local forest. Strangely, Ivory notices a bit more junk than normal and a lot of nature energy trapped in weird orbs. Could this be the work of a rogue band of evil litterbugs? What kind of mess will she find at her favorite nature shrine? How will she get to the bottom of these problems and hold those responsible accountable?
Time is of the essence! The longer junk is scattered about the land and energy is obstructed, the weaker the sun shines and the frailer the plants grow!
-- DEVELOPER NOTE --
Thank you so much for checking out my (first) game! I sincerely appreciate it!
This game represents a year of hard work and learning for me!
As of mid February 2021, I am releasing the first publish version of the game which contains essentially all tutorial levels that focus on the essentials of movement. Over the coming months, I will release more levels with artistic and mechanic variety that get into the meat of the game's combat mechanics and feature cool (silly) enemies and boss encounters.
I love making games and would greatly appreciate any feedback or content additions you think would be interesting. That being said, as a solo indie developer with a full time job, I ask you to be patient and bear with me a bit! That is why I have decided to release this game for free and without adds.
If you want to show your support, please leave a review and follow me on twitter + instagram!
https://twitter.com/DrakesGames
https://www.instagram.com/drakesgamestudio/
Thank you so much,
Drake
| | |
| --- | --- |
| Status | Released |
| Platforms | Android, HTML5 |
| Author | DrakesGames |
| Genre | Platformer, Adventure |
| Made with | Unity |
| Tags | 2D, Action-Adventure, Arcade, Cute, elephant, Hand-drawn, Short, Side Scroller, Unity |
| Average session | A few minutes |
Download
Click download now to get access to the following files:
Also available on